What is Alpharo Studio?
Alpharo Studio is a total development solution that helps to develop HTS/Office/Hybrid App/Web in just one tool.
We We identified development and operation problems faced by each securities company and developed it as an optimal tool to respond to them.
It has absorbed all the functions of the existing CS development tool, KSM Builder, and the hybrid app development tool, Hi5Studio, and also provides the ability to create general web pages.
In particular, hybrid apps are combined with cross-platform Flutter to increase the convenience of mobile application development and operation.
Alpharo Studio Characteristics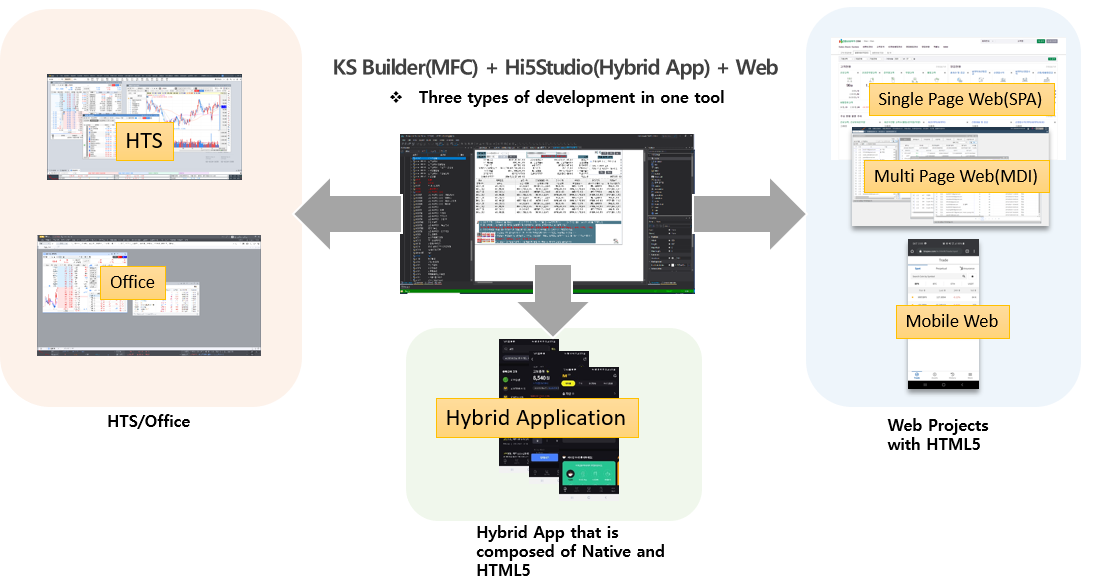 Alpharo Studio Characteristics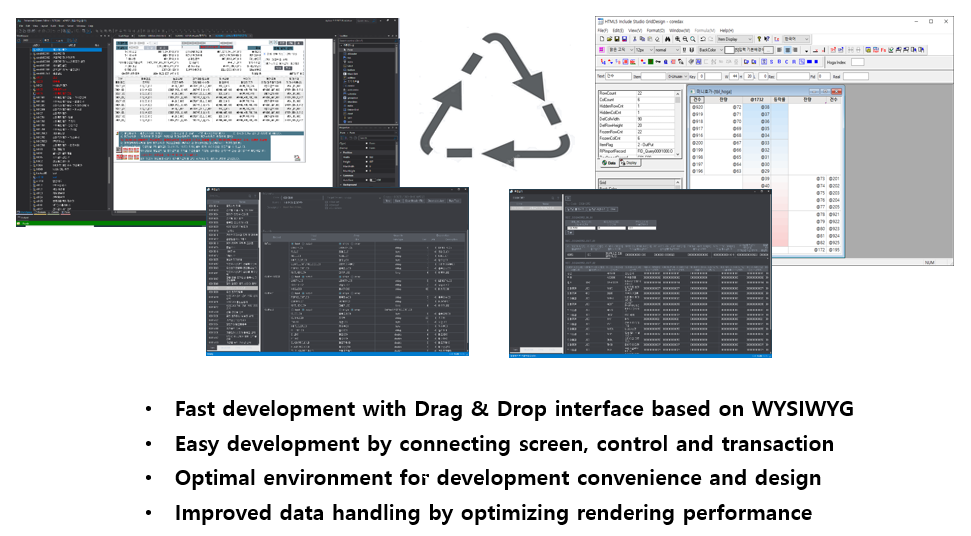 Alpharo Studio Components
Alpharo Studio is composed of 6 products. Screen Builder, Web Builder, Grid Builder, Menu Builder, Tran&REAL Builder
Log Viewer, and each product has its own role as below.
Screen Builder

It is a UI tool. You can design Windows and Hybrid App's screen UI.

Web Builder

You can manage all files and screen UI for a Web Project.

Grid Builder

It is a grid component-specific production tool that enables easy and convenient UI design and data shuffling, considering that major screens of financial companies are composed of tabular shapes. These components support compatibility with different types of tabular shapes (simple, repeatable, horizontal, tree-type, footter-type grid, subtotal ), bulk data processing (virtual grids), Excel.

Menu Builder

A tool that defines a menu. You can create a menu that reflects the business nature of the menu,
which depends on your permissions, and the menus that are created are reflected through the Runtime Browser.

Tran & REAL
Builder

You can define and test transactions of Tran/Http/FID/Real layout.

Log Viewer

A tool for monitoring transactions between the server and screen.